HERE IS HANDMADE BEAUTIFUL FLORAL

AQUAMARINE SOLITAIRE ENGAGEMENT RING

HERE IS MY NEW MODEL

ROSE FLOWER SOLITAIRE UNQUIE ENGAGEMENT RING !!
950 Platinum


CENTER

Shape - Round
Cut - Very Good
Color - Aqua Blue
Clarity - AAA
Carat - 1.00ct
Measurement - 6.80mm

TOTAL 1.00 Carat !!!

Very Sweet Blue Color & Clean Aquamarine !!!!!

Ring Size Is 6 Free Sizing Available !!

Available Matching Wedding Band Too !!

COMES WITH $2,600.00 CERTIFIED APPRAISAL !!
HANDCRAFTED IN THE
USA !!!!!!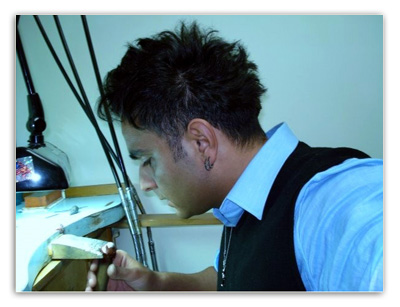 Why you should buy from Garo Celik
Thank you for taking the time to view my store! All items are painstakingly handcrafted by me at my shop; located right at the heart of the New York City diamond district. The unparalleled jewelry designs I fashion are the product of over two decades of experience; which I earned alongside the world's most prestigious jewelry makers starting when I was twelve years old. When it comes to my craft, I am committed to use only hand-selected diamonds and high quality fine metals; to bring them together with uncompromised attention to every detail, from the optimal position of each diamond within the item to the symmetry and consistency of its patterns. Notwithstanding the superior quality of my jewelry items, I also manage to make them unusually affordable; be assured that you will not find this uncommon combination of value and price anywhere else be it the internet or a retail store. When you purchase one of my items, you can be assured that the jewelry has been meticulously crafted, thoroughly inspected and proudly approved by somebody who believes absolute perfection is the only way to craft jewelry by hand that will last for generations to come.
About Diamonds
"MAKE YOUR LIFE COLORFUL..........!!!"

One of the questions I'm asked repeatedly is whether the blue center diamonds featured in some of my items are authentic. The short answer is and emphatic YES. All of my diamonds are 100% natural mined diamonds. Nevertheless, naturally occurring coloration is very rare with intense blue being one of the rarest varieties as it is the case with the world-renown "heart of the sea" diamond featured in the movie TITANIC. Due to their extremely rare nature, natural blue diamonds can fetch OVER ONE MILLION DOLLARS (USD 1,000,000.00) PER 1.00 CARAT at auction! Notwithstanding, technology offers a less expensive alternative way to turn natural diamonds to the beautiful blue color that youin my items. This coloration process is not only avant-garde and difficult but is also GUARANTEED TO BE PERMANENT.